Introduction of Platinum Talent and Native Talent Network
NTN Native Talent Network /Native Model Showcase travels to events to do promotions, fashion shows, host special events, network, model searches, and along the way meet amazing people. Check out our photos. We are very glad we met you and hope to see you soon. Thanks. Smile!
Basic Modeling Course:
1. Self esteem workshop: Teaching students that everyone is beautiful in their own way through self-esteem building exercises
2. Goal Setting: How to set and attain goals using native teachings
3. Healthy Choices: Importance of prevention through healthy choices with emphasis on self-confidence and becoming a positive role model
4. Model Basic Training: Runway and photo shoots
5. Graduation and receipt of certificate
6. Fashion Show! At the end of our show, each model introduces themself and tells their age, tribe and what they love about themselves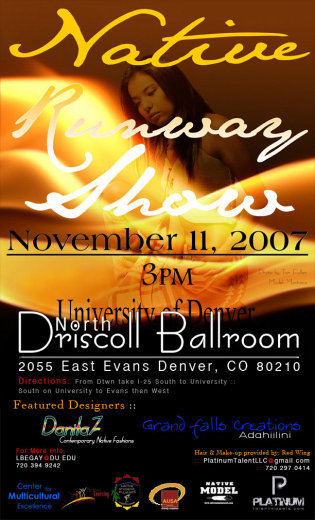 Native Talent Network's Networking Modeling - Business - Manager Fashion, Promotions, Runway, Editorial, Events etc...
Film - Drama - Acting Actors, Actresses, Producers, Photographers etc...
Dance - Performance - Other Powwow, Hip-Hop, Modern etc...
Native Talent Network's Companies Native Talent Network Native America, Canada US Platinum Talent Models